Achema 2022 - Hall 4.0 | booth f26 - frankfurt
17/08/2022
· · by Italvacuum

Italvacuum is pleased to invite you to Achema 2022, the most important event for the globally networked process industry and its experts, decision makers and solution providers.

In our booth F26 in Hall 4.0 Thermal Processes, we will exhibit our complete vacuum dryer range, composed by:

Vacuum piston pumps:
Saurus 939 model VVC on skid, with condensation group;
Saurus939 mock up model VVB

Dynamic vacuum dryers:
Criox System 350 liters, Double cone rotative dryer with lump breakers;
Planex System 150 liters, Horizantal paddle dryer with eccentric agitator;
Cosmodry System 150 liters, Horizontal paddle dryer with concentric agitator.

Static vacuum dryers:
Multispray System E0,9 model tray dryer with extractable shelves;
Labodry System ESL 2 model tray dryer for laboratory purposes.

If you still need a free ticket, contact us at marketing@italvacuum.com!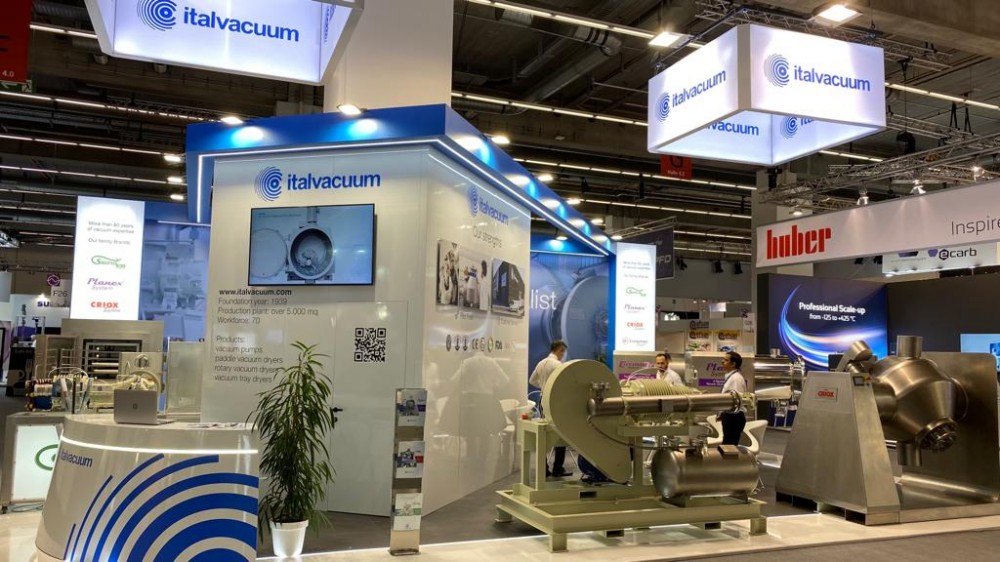 We thank all the visitors who came to our booth and we are glad to have finally had the opportunity to meet us personally and
exhibit our equipment.

It was great to receive positive feedback on our Planex System® reality configurator.

If you couldn't come by or missed anything, you can find us at the exhibition
Powtech | Nuremberg | hall 4A stand 4A-423;
WOTS | Utrecht | hall 08 stand E036

Contact us at marketing@italvacuum.com for more information or free tickets!