A customized solution to optimise APIs and fine chemicals drying processes
17/07/2023
· · by Italvacuum
Vacuum piston pump Saurus939 on skid configuration with vacuum condensing unit
for continuous organic solvent recovery.

A customized solution to optimise APIs and fine chemicals drying processes.

Context

For an important Irish customer involved in the production of fine chemicals and pharmaceutical products, Italvacuum designed and manufactured a High Vacuum System at the service of two vacuum dryers, capable of meeting specific process requirements and of working in continuous, ensuring the best possible operational reliability.

---

Customer Request

The customer needed a Taylor-made solution, which could meet their needs in terms of:

- layout limitations;
- drying process optimisation;
- improving the removal of residual traces of organic solvent trapped into the product.
---

Italvacuum solution

The scope of supply included a skid system with the following main components:

- Saurus939 model VVC - double stage piston vacuum pump.
- 2 Root compressors mod. RO500 and mod. RO2000 to increase the flowrate and guarantee a better final vacuum level.
- vacuum condensing unit, with vacuum regulation system that allows, by adapting the vacuum parameters according to requirements, the total recovery of the extracted solvent.
- piping with valves and instrumentation, mounted on board.
- skid mounted control panel, Ex proof and ATEX certified.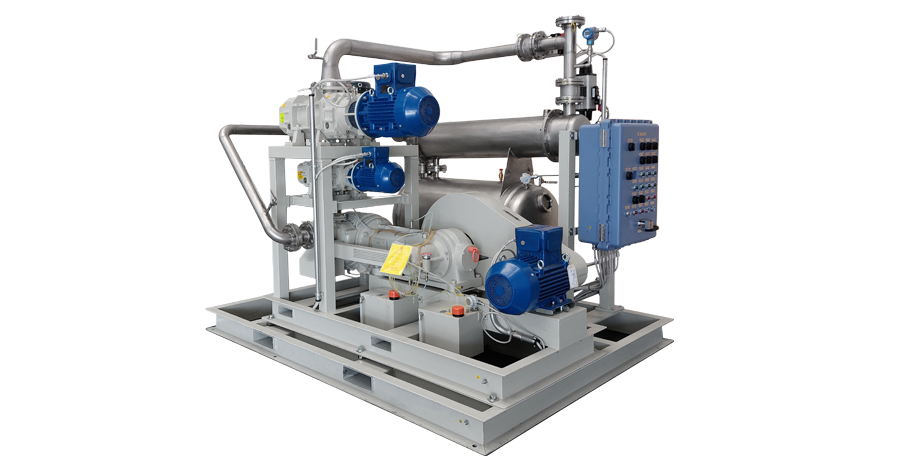 Validation and commisioning

The installation of the skid unit, complete with all the mentioned accessories and ATEX certified, has been checked and validated by Italvacuum during the Start-Up, in that occasion also I.Q. and O.Q. protocols executions and operators training have been carried out by the Project Manager, together with a Software technician.

---

Contact us!

Contact us at marketing@italvacuum.com to receive further information!